"ALTRI VERRANNO CHE CATTIVA TI FARANNO"(PARAFRASI DI UN PROVERBIO SPAGNOLO DEDICATA A LADY GAGA)
1-TITOLARE SUL CORRIERE DELLA SERA(ITALIA):
MOSCA BLINDATA PER LA SENTENZA
La condanna per "teppismo religioso": il verdetto in una Mosca blindata
ESTERI
Le tre cantanti del gruppo punk rischiano fino a sette anni di carcere per un'esibizione anti Putin in una chiesa di Mosca. La mobilitazione in tutto il mondo di cantanti e blogger. Arrestati manifestanti davanti al tribunale Fan in piazza, proteste in tutto il mondo Femen, protesta «blasfema»: abbattono la croce Video-Femministe Le statue incappucciate a Mosca Il presidio oggi alle 17 a Milano
2-TITOLARE SU BBC:
News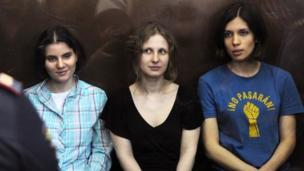 Pussy Riot guilty of hooliganism

Three members of Russian punk band Pussy Riot are convicted of hooliganism for performing an anti-Putin song in a cathedral, at a controversial trial in Moscow.
3-TITOLARE SU "LE FIGARO"

Russie : les Pussy Riot jugées coupables de hooliganisme
Réactions (6)
La juge devrait annoncer leur peine dans la journée. Les trois jeunes femmes avaient chanté, fin février, une «prière punk» anti-Poutine dans une cathédrale. Elles risquent jusqu'à sept ans de détention.
4-LA NOTIZIA SU "THE WASHINGTON TIMES"
Pussy Riot found guilty for stunt against Putin
Feminist punk group Pussy Riot members (from left) Yekaterina Samutsevich, Maria Alekhina and Nadezhda Tolokonnikova sit Aug. 17, 2012, in a glass cage at a courtroom in Moscow. The women, two of whom have young children, are charged with hooliganism connected to religious hatred but the case is widely seen as a warning that authorities will only tolerate opposition under tightly controlled conditions. The t-shirt worn by Tolokonnikova says, in Spanish, "They shall not pass," a slogan often used to express determination to defend a position against an enemy. (Associated Press)

4b-Read more: Pussy Riot found guilty for stunt against Putin - Washington Times
REAZIONE:PUTIN HA PRESO BUONA NOTA DEL DETERMINANTE CONTRIBUTO DI LADY GAGA NELL'INSEDIAMENTO DELLA NUOVA ERA NEL NORD ITALIA E LA CACCIATA DI BERLUSCONI(IL SUO AMICO) SIA A LIVELLO NAZIONALE CHE DEI SUOI AL COMUNE DI MILANO E CORRE AI RIPARI.E NON E' L'UNICO:QUELLO DEL TITOLO.
ROCKERI DEL MONDO UNITEVI,ALTRE STAMPIDE SONO IN AGUATO.